Articles
---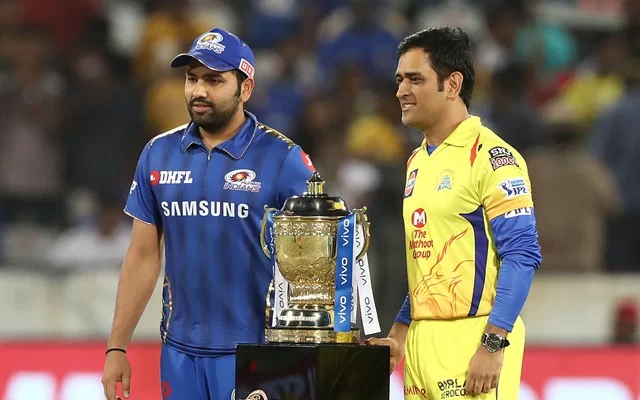 The BCCI has released the schedule for the Indian Premier League's final 31 games. On September 19, the defending champions Mumbai Indians will play three-time champions Chennai Super Kings in the first match of the second leg. The tournament final will take place on October 15 in Dubai.

The event will be played in Dubai for 13 matches, including the final, and Sharjah for 10 matches, including the eliminator and second qualifier. There will be seven double-headers, the first of which will take place on September 25. The match times are the same as the previous season, with afternoon games beginning at 3:30 p.m. IST and evening games beginning at 7:30 p.m. IST.

According to the schedule, the Delhi Capitals will play three afternoon matches, while CSK, MI, KKR, and PBKS will play two afternoon games. The league phase will run till October 8, followed by the playoffs on October 10. The first qualifier will occur on October 10 in Sharjah, followed by the second qualifier and eliminator on October 11 and 13. On October 15, the action will transfer to Dubai for the final.

DC and PBKS have each played eight matches in the first 29 matches of IPL 2021, while the other teams have finished their set of seven games.


| Date | Day | Match No. | Time (IST) | Match | Venue |
| --- | --- | --- | --- | --- | --- |
| 19 Sep 2021 | Sunday | 30 | 19:30 | CSK vs MI | Dubai |
| 20 Sep 2021 | Monday | 31 | 19:30 | KKR vs RCB | Abu Dhabi |
| 21 Sep 2021 | Tuesday | 32 | 19:30 | PBKS vs RR | Dubai |
| 22 Sep 2021 | Wednesday | 33 | 19:30 | DC vs SRH | Dubai |
| 23 Sep 2021 | Thursday | 34 | 19:30 | MI vs KKR | Abu Dhabi |
| 24 Sep 2021 | Friday | 35 | 19:30 | RCB vs CSK | Sharjah |
| 25 Sep 2021 | Saturday | 36 | 15:30 | DC vs RR | Abu Dhabi |
| 25 Sep 2021 | Saturday | 37 | 19:30 | SRH vs PBKS | Sharjah |
| 26 Sep 2021 | Sunday | 38 | 15:30 | CSK vs KKR | Abu Dhabi |
| 26 Sep 2021 | Sunday | 39 | 19:30 | RCB vs MI | Dubai |
| 27 Sep 2021 | Monday | 40 | 19:30 | SRH vs RR | Dubai |
| 28 Sep 2021 | Tuesday | 41 | 15:30 | KKR vs DC | Sharjah |
| 28 Sep 2021 | Tuesday | 42 | 19:30 | MI vs PBKS | Abu Dhabi |
| 29 Sep 2021 | Wednesday | 43 | 19:30 | RR vs RCB | Dubai |
| 30 Sep 2021 | Thursday | 44 | 19:30 | SRH vs CSK | Sharjah |
| 1 Oct 2021 | Friday | 45 | 19:30 | KKR vs PBKS | Dubai |
| 2 Oct 2021 | Saturday | 46 | 15:30 | MI vs DC | Sharjah |
| 2 Oct 2021 | Saturday | 47 | 19:30 | RR vs CSK | Abu Dhabi |
| 3 Oct 2021 | Sunday | 48 | 15:30 | RCB vs PBKS | Sharjah |
| 3 Oct 2021 | Sunday | 49 | 19:30 | KKR vs SRH | Dubai |
| 4 Oct 2021 | Monday | 50 | 19:30 | DC vs CSK | Dubai |
| 5 Oct 2021 | Tuesday | 51 | 19:30 | RR vs MI | Sharjah |
| 6 Oct 2021 | Wednesday | 52 | 19:30 | RCB vs SRH | Abu Dhabi |
| 7 Oct 2021 | Thursday | 53 | 15:30 | CSK vs PBKS | Dubai |
| 7 Oct 2021 | Thursday | 54 | 19:30 | KKR vs RR | Sharjah |
| 8 Oct 2021 | Friday | 55 | 15:30 | SRH vs MI | Abu Dhabi |
| 8 Oct 2021 | Friday | 56 | 19:30 | RCB vs DC | Dubai |
| 10 Oct 2021 | Sunday | 57 | 19:30 | Qualifier 1 | Dubai |
| 11 Oct 2021 | Monday | 58 | 19:30 | Eliminator | Sharjah |
| 13 Oct 2021 | Wednesday | 59 | 19:30 | Qualifier 2 | Sharjah |
| 15 Oct 2021 | Friday | 60 | 19:30 | Final | Dubai |